Memoscopio Digital Archive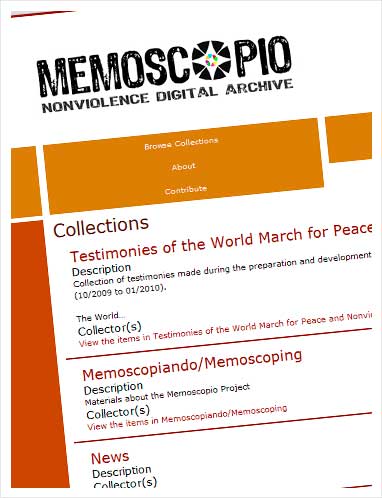 Digital exhibits.     For the 1-year anniversary of the World March we curated Moments of the World March, a digital exhibit featuring selected testimonios from participants in USA, Colombia, Ecuador, Bolivia, Peru, Chile and Argentina.
Collections.     The Archive is a long-term project currently in its seminal stages. As it develops, it will serve as a repository of the interviews, images, and other materials Memoscopio  and its partnering organizations gather  as we document and study different expressions of nonviolence.   The Archive's first collection  resulted from our study of the World March for Peace and Nonviolence  in the United States and the countries of the Andes. The collection  features 191 written and filmed testimonios by marchers from 20 countries.
Share a story.     Through this link you can share a story, image or any other materials about your experience with nonviolence, as a contribution to the Archive.
Omeka.     The archive is built on Omeka, an open source platform used by libraries and museums to manage digital collection and curate digital exhibits.